Adventure Kayaking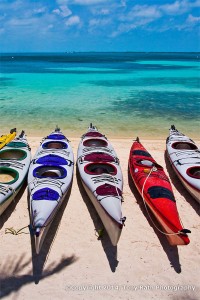 All of our kayaks are top of the line fully-equipped sea kayaks. We can customize your kayaking adventure with kayak sails for efficient breezy transport, paddleboards, and more!
If you are an experienced kayaker, take advantage of our knowledge and top-notch equipment to prepare for your self-guided tour of the cayes and reef. We can arrange for shuttles out of and back to Placencia to expedite your adventure. Alternatively, we can arrange for an experienced guide to enhance your experience. The guides are friendly and knowledgeable and will assure that your expedition fulfills your expectations!
For you novice and intermediate kayakers, don't fear! A guided expedition will give you an experience that you won't soon forget. If you aren't comfortable kayaking in the sea, a guided lagoon adventure can still provide you with wildlife sightings and views that you just can't get from land.
Let us arrange for a customized trip that fits your needs. We have prepared simple packages to begin your planning, but feel free to let us know your needs on our contact form, and we will work with you (typically via email) to assure that you have a fulfilling experience.