Camping & Lodging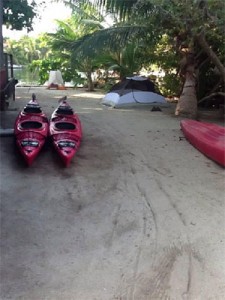 An exciting kayak adventure could include camping on an uncrowded or even private tropical caye. These cayes provide a wonderful base camp for snorkeling, kayaking, star-watching, and relaxing or nourishing oneself for the next endeavor! If you, like most visitors, are flying into Belize and would like to pack your luggage light, we can provide you with the equipment needed for a comfortable camping experience. Our own island, Saddle Caye South, is equipped with a comfort station, water supply, picnic shelter, and even rustic cabanas if sleeping in a tent is not appealing to you. Alternatively, we can arrange camping on nearby cayes, such as the beautiful Silk Cayes, a popular kayaking, snorkeling, and diving destination near the Belize Barrier Reef.
Gecko Lodging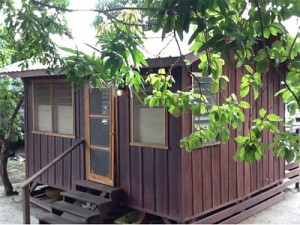 For those visitors arriving early and wanting to spend more time in the quaint fishing Village of Placencia or even those of you just traveling through, we have tent spots available at the kayakbelize.com base, which we have affectionately dubbed "Gecko Landing". Geckos aren't the only wildlife in this picturesque lot located directly on the canal and surrounded by water on three sides! In the mornings, often two or three iguanas will visit the beautiful palm and flowering trees along with a multitude of birds. Crocodiles are sometimes seen swimming through the canal as are interesting fish, including beautiful Eagle Rays. This is a peaceful setting in the heart of the village, with numerous restaurants and village shops within easy walking distance. Access to a shower/bath room is included with the camping spot.
If you're looking for a comfortable bed with a private bath, a standalone cabana and efficiency apartments are available for a more at-ease rest before or after your adventure. These lodging options include the convenience of a kitchenette.